What is beyond being poor?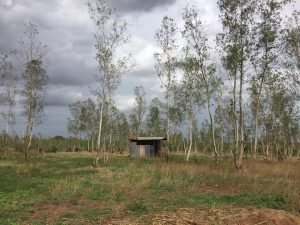 There is a land not far from where we live; I'd say about 4-5 countries far away (depending if you count side to side)… too far to walk to yet many do so every day, where several communities seek to learn new ways to be sustained. Where women and men are rich in land and are learning to cultivate the dirt with no water, no shovels, and for many no plan. The other part of the land is green fruit filled, where bees are kept, they make honey that helps their communities grow.
I recently traveled to Nicaragua for a long weekend to meet a group of people who are creating positive social change. They are beyond working bees. They are leaders in communities helping advance people lives. Raising communities the way they've been taught how.
In this team there are leaders, one traveling and telling people all over the world of his non-profit. His job takes him everywhere and through what he makes he started this act of love his name is Vince. I call his Cosgrove. His partner Victoria, she operates the non-profit that is literally saving people's lives. This non-profit is called Sweet Progress. They help communities help their people become entrepreneurs so they can stand on their own. There are women, children and men with undiagnosed disabilities, people who don't have the ability to talk, or walk, and people that have no control of their body and children with resiliency far beyond what poverty is known to create. And just because they have such resiliency should they continue to live in such ways? They are choosing not to and choosing to advance in life.
How you ask? Here is one of many ways: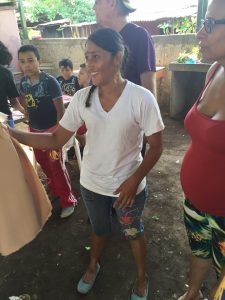 I met a woman, she could not speak, she has two children, and she is learning how to make dresses so she can sell her works and feed her children, pay for her children's schooling needs. A typical story you hear in the "third world scenes." What you don't know is that she lives in iron wooden stick hot open shelter home with little to no water. You only get one hour to pour and fill your buckets for every few days. The water wells, ponds and lakes have dried up, there use to be water all around them. Now, there is no walking 5-15 miles to get a gallon of water (it takes me 1 hour alone to walk 3.5-4 miles alone, imagine that). There is no water to cultivate their lands. A few years ago they where finally given the deeds to their lands. These communities created in old cane fields were given to them as payment for their hard work as a company they worked for broke during the Nicaraguan wars. This once was a land of the biggest company that grew sweet cane in Central America they once had sweet lands.
She is but one of many social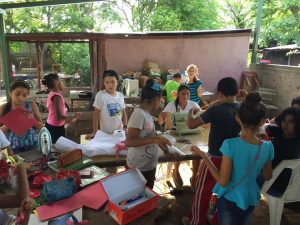 entrepreneurs I will tell you about in my next few posts. All I can tell you now is to buy their honey, to help them mend their lives and lands.
More later: What is beyond being poor
Have a positive and giving day,
Jes