#LATISM is On Air with Google+ Hangout and at The White House!
FIRST UP – TOMORROW, TUESDAY MAY 1ST AT 7PM EDT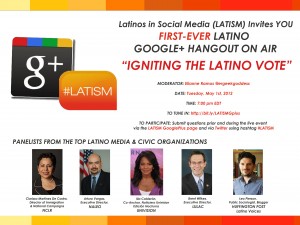 Our Google+ Hangout on Air, the first livestream hangout to be organized by a Latino organization, is the latest in the organization's efforts, as a partner to the Ya Es Hora campaign, to bring to the forefront the importance of exercising the power of the vote in the upcoming elections and beyond. This will be the very first in a series of live-streamed conversations revolving around the most pressing Latino issues.
LATISM GOOGLE+ HANGOUT ON AIR DETAILS:
DATE: Tuesday, May 1st, 2012
TIME: 7:00 pm EDT
TO TUNE IN: Watch the hangout live on the LATISM Google Plus page at http://bit.ly/LATISMGplus
TO PARTICIPATE: Submit questions prior and during the live event via the LATISM GooglePlus page and via Twitter using hashtag #LATISM. The hangout will also be recorded and will be available on the LATISM National YouTube page at http://www.youtube.com/user/LATISMnational once it has ended.