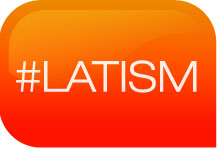 Latinos in Social Media (LATISM) Announces National Partnership with Social Media Week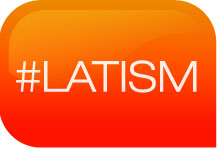 Washington, DC –February 13, 2012 –Latinos in Social Media (LATISM), the largest organization of Latinos in the Social Media arena, today announced a national partnership with Social Media Week, the global network of internationally hosted conferences and online through social media. As part of the partnership, LATISM has organized a spectacular series of events showcasing the best of Latino Social Media in the areas of Economic Development, Health, Education and Civic Engagement, including representatives from Twitter, Google, NCLR and the Carnegie Corporation.
"We're extremely proud to partner with the global phenomenon that is Social Media Week, particularly as their platform and vision are so aligned with our own," said Ana Roca-Castro, LATISM's Founder and Chair. "As the largest organization of Latinos in the Social Media arena, our chapters help us bring the phenomenal engagement we have online to the grassroots level. By participating in an event of this scale, we can amplify our impact as we continue driving the conversations and searching for solutions to the most important issues affecting our Latino community."
The events will include panels with some of the most prominent Latino thought-leaders in their respective fields. In addition, the events will include full online coverage and scheduled virtual events via LATISM's social media properties.
LATISM's Social Media Week events will take place in Washington DC, Miami FL, New York NY and San Francisco, CA on February 14th and 16th. Events in San Francisco and New York City have been organized in partnership with Google.
The schedule of events is as follows:
LATISM South Florida Chapter at SMW:
DATE: Wednesday, February 15, 2012 at 4:30 PM – 5:30 PM ET
TOPIC: Economic Development: Building A New Vision To Power The Economy
LOCATION: Adrienne Arsht Center – 1300 Biscayne Boulevard, Miami, FL 33132
MODERATOR: Ernesto Sosa (President, SOWEB/LATISM SFL Chapter Director)
PANELISTS:
Giovanni Rodriguez (CMO at Deloitte Postdigital Enterprise, Board of Directors Member at LATISM)
Pilar Portela (Media Relations Specialist, Business Wire/LatinoWire)
Jorge Fernandez (Real Estate Agent, ONE Sotheby's International Realty)
Carlos Pedraja (Sr. Industry Manager, LATAM, Google)
Brenda Leguisamo (Founder & CEO, SocialBizMembers.com)
RSVP: http://socialmediaweek.org/event/?event_id=1924

LATISM Washington, DC chapter at SMW:
DATE: Thursday, February 16, 2012 from 6:30 PM to 8:30 PM ET
TOPIC: Health Communication, Digital Media & the Latino Community
LOCATION: National Council of La Raza (NCLR) Offices – Raul Yzaguirre Building, 1126 16th Street, NW, Suite 600, Washington, DC 20036-4845
MODERATOR: Jennifer Lubrani, Web Marketing and Communications Officer/Program Manager at FHI 360; LATISM DC Chapter Director
PANELISTS:
David Castillo (New Media Manager, National Council of La Raza)
Kimberly Inez McGuire (Policy Analyst, National Latina Institute for Reproductive Health)
Javier Von Westphalen (Senior Vice President, Corporate Communications & Strategy, HMA Associates, Inc. and LATISM DC Co-Director)
Lizette Olmos (Olmos Strategy Group, Former Communications Director of League of United Latin Americans Citizens)
RSVP: http://socialmediaweek.org/event/?event_id=2211
LATISM New York City Chapter at SMW [In Partnership with Google]:
DATE: Thursday, February 16, 2012 at 6:00 PM – 9:00 PM
TOPIC: The Power of Social Media in Education
LOCATION: Google NYC Office (Chelsea Market) – 75 9th Avenue (Between 15th and 26th Streets), 2nd Floor New York , 10011
MODERATOR: Ray Cruz, LATISM NYC Chapter Director and blogger at AngryLatino.com
PANELISTS:
Jeannette Kaplun (Chief Content Officer/Founder & TV host "Viva la familia!", Todobebe.com)
Angélica Pérez-Litwin (PhD, Publisher & CEO, NewLatina.net)
Andrés Henríquez (Program Officer, National Program of Carnegie Corporation of New York)
Mariela Dabbah (Speaker, author, media personality, Latinosincollege.com)
RSVP: http://socialmediaweek.org/event/?event_id=2111
LATISM Bay Area Chapter at SMW [In Partnership with Google]:
DATE: Thursday, February 16, 2012 at 6:00 PM – 8:00 PM
TOPIC: Social Media for Good: Civic Engagement and Change
LOCATION: Google SF Office – 345 Spear Street, San Francisco, CA 94105
MODERATOR: Marcela Gutierrez, Founder / Director at Azul, LATISM Bay Area Chapter Director
PANELISTS:
Laura Gomez (Manager, Localization/Internationalization at Twitter)
More speakers (TBA)
RSVP: http://smwlatismbayarea.eventbrite.com
TO PARTICIPATE VIA TWITTER: Follow hashtags #LATISM #SMW
ABOUT SOCIAL MEDIA WEEK
Social Media Week is a global platform that connects people, content, and conversation around emerging trends in social and mobile media. Delivered primarily through a network of internationally hosted conferences and online through social media, Social Media Week literally connects hundreds of thousands of people every year through learning experiences that aim to advance our understanding of social media's role in society. To learn more about social media week, visit http://socialmediaweek.org/
ABOUT LATISM
Latinos in Social Media (LATISM) is a 501(c) 4 nonprofit, nonpartisan organization dedicated to advancing the social, civic and economic status of the Latino community. With a network of over 140,000 members, LATISM is the largest organization for Latinos engaged in social media, including bloggers and professionals from every arena. LATISM also helps to raise awareness among corporate brands, NGOs and government entities about using social media to reach Latinos through research, event sponsorships, and leadership training. A pioneering social media organization, LATISM has been hailed as the most influential online movement in the new multicultural Web. Visit http://LATISM.org/beta